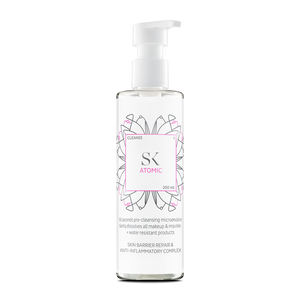 Skintegra
Atomic - Soothing Oil Cleanser 200ml
Regular price
312 kr
0 kr
Unit price
per
Tax included.
Shipping
calculated at checkout.
Description
Atomic - Soothing Oil Cleanser
This pre-cleanser is an oil based cleanser, perfect for even the most sensitive skin with a disrupted barrier function (including skin with dermatoporosis). It quickly dissolves layers of external impurities (including waterproof ones) without drying, rough scrubbing or irritating the skin.
It has a "non-oily oil" texture which in contact with water turns into a gentle lotion before washing off completely.
Perfect for: Sensitive skin, if you wear heavy makeup and sunscreen. This is the ideal first step in a double cleanse routine.
💡PRO TIP! Apart from cleansing, Atomic may also be used for gentle face massage which Skintegra recommends as a preventive step against loss of skin firmness. Not only for dry and more mature skin, such massage is also useful for oiler skin with non-inflamed acne blemishes (blackheads) since Atomic helps soften and release sebaceous filaments from clogged pores.
✨ alcohol-free, fragrance & essential oil-free
KEY INGREDIENTS
Ceramide precursors (phospholipids and sphingolipids) which regulate ceramide production in the skin. Ceramides are lipids naturally produced by the skin whose production decreases over the years, in turn resulting in reduced elasticity, hydration and resilience properties of the skin.
Bisabolol, squalane and antioxidative extracts of magnolia, rosemary and rosehip, that together soothe inflammation and cancel the negative effects of environmental stressors.  

How to use
Apply a generous amount on dry skin and massage until all makeup and impurities are dissolved. After that add water and continue massaging as the product turns milky and emulsifies, making it easy to wash off. If needed, use a gentle face wash as a second cleanser after Atomic, or continue with your daily skincare routine.

Ingredients
CAPRYLIC/CAPRIC TRIGLYCERIDE, PEG-20 GLYCERYL TRIISOSTEARATE, PROPYLENE GLYCOL, AQUA, BISABOLOL, PHOSPHOLIPIDS, SPHINGOLIPIDS, PUNICA GRANATUM SEED EXTRACT, ROSMARINUS OFFICINALIS LEAF EXTRACT, SQUALANE, MAGNOLIA OFFICINALIS BARK EXTRACT, PHENOXYETHANOL, POTASSIUM SORBATE
---
Share this Product