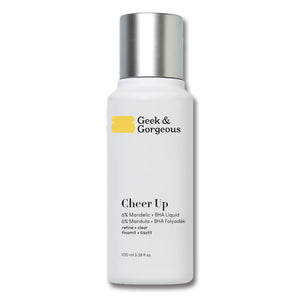 Geek & Gorgeous
Cheer Up 100ml
Regular price
344 kr
0 kr
Unit price
per
Tax included.
Shipping
calculated at checkout.
Description
Cheer Up
This is Geek & Gorgeous medium-strong, combination skin focused exfoliant with 6% Mandelic Acid + BHA that works both on the surface of the skin and inside the pores to clear and balance the complexion.
It is a lightweight, fast absorbing exfoliating liquid that is designed to treat combination skin gently but effectively.  The combination of mandelic and salicylic acid exfoliates both the surface of the skin as well as inside the pores, it is both antibacterial and anti-inflammatory. 
The acid combination also contains Sarcosine, an amino-acid derivative that further helps to smooth enlarged pores, and balance the oil production. With regular use, Cheer Up fights several of the typical problems of combination skin including enlarged pores, extra oil production, blackheads, acne, and post-acne marks.
Cheer Up is non-irritating and non-drying, a best friend for combination or problem-prone skin. It is suitable for all skin types  but it is especially recommended for combination skin that struggles with acne, blackheads, too much oil production and enlarged pores. It is also gentle enough to be used on sensitive, redness prone skin.
Cruelty-free | Vegan | Fragrance & Essential oil free | Gluten-free | Malassezia-safe | Pregnancy-safe
KEY INGREDIENTS
Mandelic Acid –An AHA that comes from bitter almond and is known for its gentleness and antibacterial properties. It not only exfoliates the surface of the skin but also helps to fight acne (especially good for pustules, but also helps inflammatory nodules) as well as post-acne marks.
Salicylic Acid (BHA) –Super well-known oil-soluble acid that is the gold standard in treating blackheads and enlarged pores. It works inside the pores to clear out dead skin cells that clog them.
Sarcosine –An amino-acid derived ingredient that helps to normalize oil production (not by drying the skin, it is a so-called 5α-Reductase inhibitor), tightens up enlarged pores, and evens out the surface of the skin.
Xylitylglucoside + Anhydroxylitol + Xylitol – Sugar based humectant trio that increases the skin's water-binding capacity and strengthens the skin's barrier.
How to use
It's an ideal first step after cleansing your skin. Use it as a toner, either with a cotton pad or pour it into the hands and pat it on as men do with after-shave.  Avoid the area around the eyes.
You can use Cheer Up from every other day to twice a day depending on your skin's level of tolerance. For most skin types, once a day use is ideal. Wait until it is absorbed and follow with your favourite serum and moisturiser.
IMPORTANT: Mandelic acid might make the skin more sensitive to the sun. Use a good SPF in the morning! The product contains BHA, do not use it if you are allergic to Aspirin.
Water, Propanediol, Mandelic Acid, Salicylic Acid,  Xylitylglucoside, Anhydroxylitol, Xylitol, Sarcosine,  Butylene Glycol, Pentylene Glycol, Glucose,  Xanthan Gum, Sodium Hydroxide, Phenoxyethanol

---
Share this Product