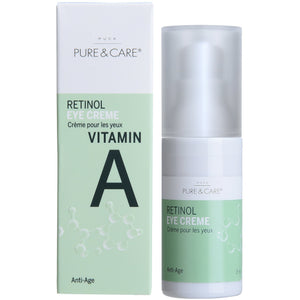 Pure & Care
Eye Cream - Vitamin A 15ml
Regular price
115 kr
0 kr
Unit price
per
Tax included.
Shipping
calculated at checkout.
Description
Eye Cream - Vitamin A
This eye cream works to reduce dark circles and prevents age-related changes. It makes thin and transparent skin appear thicker and less transparent and minimises fine lines and wrinkles around the eye area.
Active ingredients:
Panthenol, Vitamin B5. Provides a healthy complexion and is moisturising
Arginine, an amino acid. Retains moisture and suppleness of the skin, an essential fatty acid found in the cells of both plants and animals
Plant extract that restores, heals and reduces dark circles around the eyes
Oligopeptide-2, anti-ageing, anti-wrinkle, healing effect
Oligopeptide-5, effective in treating wrinkles and fine lines, lightens the skin
KEY INGREDIENTS
Retinol: the most proven anti-ageing ingredient that you can buy without a prescription. It reduces wrinkles, smoothes the skin, it firms and tightens and also normalises acne. Retinol can cause sensitivity and photo-sensitivity so it is importtant to always use an SPF of 30 or above to protect the skin and the results of the ingredient.
Glycerin: a natural moisturiser that is also found in our skin, this is a common and safe ingredient that has been around in cosmetics for many years. It works to keep the lipids between our skin happy and healthy resulting in a protected and strong skin barrier.
Portulaca Oleraca Extract: a famous plant extract used in Korean traditional medicine that effectively treats infection and irritation of the skin. It is found to be one of the richest green plants containing omega-3 fatty acids, NMFs, carotene, minerals and antioxidants  that all have anti-inflammatory and antioxidant abilities.
Sodium Hyaluronate: boosts the skin's moisture content, prevents inflammation and helps the skin retain moisture. It acts as a protective sponge on the skin retaining moisture keeping the skin plump, hydrated and elastic.
Suitable for both women and men
How to use
 Use every other day for the first few weeks to accustom the eye to Vitamin A (retinol) and to avoid redness.
This eye cream should dabbed around the eye area, but not normally used on the eyelids, where the skin is very delicate.
Avoid getting too close to the tear ducts. When the skin has become accustomed to the eye cream, apply it every day, both morning and evening.
Ingredients
Aqua, Glycerin, Butylene Glycol, Isopropyl Myristate, Caprylic/Capric Triglyceride, Dicaprylyl Carbonate, Cetearyl Alcohol, Sucrose Polystearate, Tocopheryl Acetate, Glyceryl Stearate, Panthenol, Sodium Hyaluronate**, Hydroxyacetophenone, Hexylene Glycol, Phenoxyethanol, Sodium Acrylate/Sodium Acryloyldimethyl Taurate Copolymer, Propylene Glycol, Polyacrylic Acid, Arginine, Allantoin, Isohexadecane, Xanthan Gum, Mentha Arvensis Leaf Extract*, Chrysanthemum Indicum Flower Extract*, Sophora Angustifolia Root Extract*, Aloe Barbadensis Extract, Hydroxypropyl Cyclodextrin, PEG-40 Hydrogenated Castor Oil, Olea Europaea Oil****** Unsaponifiables, Polysorbate 80, Caprylyl Glycol, Pelargonium Graveolens Extract*, Portulaca Oleracea Extract*, Hydrolyzed Wheat Protein, Ethylhexylglycerin, Collagen*****, Hyaluronic Acid, Oligopeptide-1****, Sorbitan Oleate, Hydrolyzed Soy Protein, Adenosine, Retinol***, Pectin, Sodium Hydroxide, Potassium Sorbate, Proline, Serine, Glucose, Sodium Benzoate, Oligopeptide-2****, Oligopeptide-5****, Chondrus Crispus Extract
*Extract that may contain natural fragrances, therefore, the product is not labeled perfume-free
**The Sodium hyaluronate is a combination of Macromolecular hyaluronic acid and Small molecule hyaluronic acid.
Small-weight hyaluronan molecules penetrate deeper into the skin's structure, providing maximum below-the-surface hydration and in turn rehydrating skin cells over time.
Macromolecular hyaluronic molecules deliver immediate intensive hydration to the surface layers of the skin for an instant smoothing and firming effect.
***Retinol has the quality of converting into Vitamin A acid when applied to the skin. In theory, the best effect is achieved by using a pure Vitamin A acid, but it does have a number of side effects, such as severe skin irritation. Because of that, there are restrictions in using A-acid, and it must not be used in skincare products.
Several skin care products contains Retinol (which we use) or Retinol esters, which slowly convert to Vitamin A acid when it pentrates the skin.
****Oligopeptide-1 and 2 can promote cell growth and improve cell activity, repair damaged skin. Repair collagen and elastic fibers. It has super good effect to repair damaged skin, like allergic skin, sun-after skin, couperose skin.
Oligopeptide-5 can stimulate the metabolism of epithelial cells, repair the stratum corneum, increase the thickness of the stratum corneum, enhance the vitality of collagen and elastin, and promote wound healing.
These are = Cell Energy Biopeptide from EMGPEPTIDE ®
*****The marine-based collagen is a mixture of peptides and it is a hydrolysate of collagen.
******The product contain Vegetable oils.
The product is without Alcohol and Silicone.
---
Share this Product