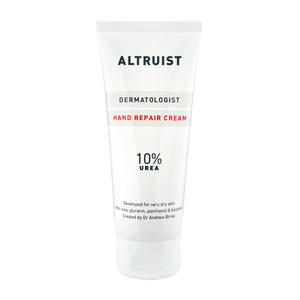 Altruist
Hand Repair Cream 10% Urea 75ml
Regular price
96 kr
0 kr
Unit price
per
Tax included.
Shipping
calculated at checkout.
Description
Hand Repair Cream 10% Urea 
The Altruist dermatologist hand repair cream with 10% Urea is created for very dry skin: containing urea, glycerin, panthenol & bisabolol. This gel-like hand cream restores and retains moisture on hard working hands and protects the skin from getting dry and scaly.
This hand repair cream has a concentrated formula – only a small amount is necessary for each application. Its 75ml size is perfect to have on the go and so that it can be taken with you to moisturise after every hand wash.
💙 alcohol-free, fragrance & essential oil-free.
KEY INGREDIENTS
Glycerin: a natural moisturiser that is also found in our skin, this is a common and safe ingredient that has been around in cosmetics for many years. It works to keep the lipids between our skin happy and healthy resulting in a protected and strong skin barrier.
Lactic acid: an AHA that is the second most researched and studied AHA after glycolic acid. It removes dead skin cells from the skin and pores to reveal a healthy and fresh glow while keeping the skin moisturised.
Urea: a natural moisturising factor - NMF.  NMFs are important components that help the skin to contain water and keep it plump, elastic and hydrated. It also strengthens the skin barrier function. It acts as a mild keratolytic agent (some of its moisturising action is thought to come from urea's ability to break down bonds in the protein called filaggrin and thus freeing up amino acids in the skin), enhances antimicrobial peptide expression and improves skin barrier function. 
Panthenol: also called pro-vitamin B5 moisturises the skin as it attracts water and holds onto it. Research has shown that panthenol can help the skin produce skin cell lipids which strengthen and keep the skin barrier healthy. 
How to use
Apply a pea-sized amount on backs of hands and massage in after washing.
Ingredients
Aqua, Glycerin, Dimethicone, Urea, PEG-30 Dipolyhydroxystearate, Carbomer, Panthenol, Sodium Hydroxide, Lactic Acid, Bisabolol
---
Share this Product