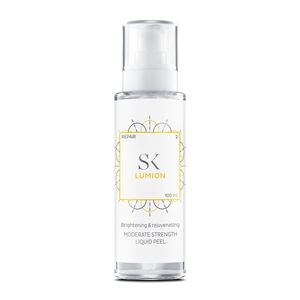 Skintegra
Lumion - AHA & PHA Exfoliating Toner 100ml
Regular price
314 kr
0 kr
Unit price
per
Tax included.
Shipping
calculated at checkout.
Description
Lumion - AHA & PHA Exfoliating Toner
The Lumion Exfoliating Toner contains AHA and PHA acids which effectively reduce hyperpigmentation marks from sun exposure and brightens skin with impaired texture lacking glow and luminosity.
Lumion effectively exfoliates the surface skin layer, softening hard skin and evening out skin tone. As we get older, squamous cells peel less efficiently from the surface of the skin and they need a little assistance.  Lumion refines the skin's texture and evens out skin tone leaving it smooth, soft and glowing.
Perfect for: If your skin is congested & lacks lustre, uneven skin tone, comedones & uneven texture.
✨ alcohol-free, fragrance & essential oil-free.
KEY INGREDIENTS
Glycolic acid: provides exfoliation for the skin. It stimulates the production of new skin cells while also binding moisture to the skin. Glycolic acid is the most researched AHA and hold the most proven skin benefits. It gently removes dead skin cells from the skin by dissolving the "glue" that binds them to healthy skin cells. Firmer, youthful and brighter skin tone can be achieved with the use of glycolic acid because it is found to stimulate the skins own collagen production and effectively fade brown spots and pigmentation.
Lactic acid: also an AHA this is the second most researched and studied AHA after glycolic acid. It removes dead skin cells from the skin and pores to reveal a healthy and fresh glow while keeping the skin moisturised.
Glucolactone: this polyhydroxyacid (PHA) is the gentlest exfoliative acid that removes buildup and dead skin cells from the skin. It has proven to have anti-aging benefits, antioxidant activity, is reparative to the skin and does not make the skin sensitive to skin exposure. This is a perfect ingredient for skin that is extremely sensitive or rosacea prone.
Colloidal Oatmeal: Oat is loaded with compounds such as soothing agent beta-glucan (5%),  lipids (3-11%) including barrier repairing omega-3 and 6 fatty acids or phenolic antioxidant and anti-inflammatory agents (avenanthramides). This is a great ingredient if your skin is dry, itchy or prone to skin-rashes or eczema.
How to use
Apply every other evening after cleansing and before moisturising. A tingling sensation can be felt due to Lumion low pH (this is normal and will pass). No need to rinse - follow with moisturiser and SPF30 or above during the day.
Ingredients
AQUA, GLYCOLIC ACID, LACTIC ACID, SODIUM CITRATE, GLUCONOLACTONE, GLYCERIN, PANTHENOL,CALCIUM GLUCONATE, AVENA SATIVA KERNEL EXTRACT, SODIUM HYDROXIDE, SODIUM BENZOATE, PHENETHYL ALCOHOL
---
Share this Product