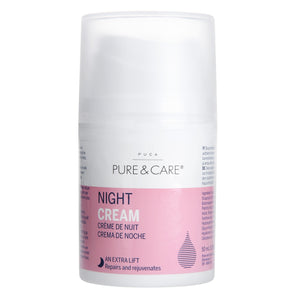 Pure & Care
Night Cream - Soft Skin 50ml
Regular price
119 kr
0 kr
Unit price
per
Tax included.
Shipping
calculated at checkout.
Description
Night Cream - Soft Skin
This specially designed Night Cream features a unique combination of ingredients which help to add and retain moisture in the skin and promote the skin's natural nighttime repair. It leaves your skin lifted, firmer and with a fresh, rejuvenated glow. Using the product overnight improves the result.
The cream will immediately give your skin a soothing and smoother feeling.
In the morning, the skin feels healthy, radiant and brighter.
Night after night, the product adds moisture to the skin, the skin tone becomes more even while the natural regeneration of the skin is enhanced.
KEY INGREDIENTS
Glycerin: a natural moisturiser that is also found in our skin, this is a common and safe ingredient that has been around in cosmetics for many years. It works to keep the lipids between our skin happy and healthy resulting in a protected and strong skin barrier.
Panthenol: also called pro-vitamin B5 moisturises the skin as it attracts water and holds onto it. Research has shown that pantheon can help the skin produce skin cell lipids which strengthen and keep the skin barrier healthy.
Collagen: In skincare products, collagen has little to do with minimising wrinkles. However it is a fantastic moisturiser and keeps skin hydrated for longer.
Hyaluronic Acid: This famous ingredient attracts water to the skin keeping it moisturised and healthy. It is found naturally in our skin, but in skincare it is a great ingredient to help boos hydration and keep the skin moisturised for longer.
How to use
Apply as part of your evening routine after cleansing.
Ingredients
Aqua, Glycerin, Macadamia Ternifolia Seed Oil*****, Dicaprylyl Carbonate, Cetearyl Alcohol, Butylene Glycol, Isopropyl Myristate, Butyrospermum Parkii Oil*****, Hydrogenated Polybutene, Rosa Gallica Flower Extract*, Palmitic Acid, Tocopheryl Acetate, Corn Gluten Amino Acids, Stearic Acid, Sodium Polyglutamate, Panthenol, Cetearyl Glucoside, Xanthan Gum, Sodium Polyacrylate, Yeast Ferment Extract, Phenoxyethanol, Hydroxyethylcellulose, Dipotassium Glycyrrhizate, Portulaca Oleracea Extract, 1,2-Hexanediol, Collagen**, Hyaluronic Acid***, Oligopeptide-1****, Hexylene Glycol, Hydroxyacetophenone, Cellulose Gum, Oligopeptide-2****, Oligopeptide-5****
*Extract that may contain natural fragrances, therefore, the product is not labeled perfume-free.
**The marine-based collagen is a mixture of peptides and it is a hydrolysate of collagen.
***The Sodium hyaluronate is a combination of Macromolecular hyaluronic acid and Small molecule hyaluronic acid.
Small-weight hyaluronan molecules penetrate deeper into the skin's structure,providing maximum below-the-surface hydration and in turn rehydrating skin cells over time.
Macromolecular hyaluronic molecules deliver immediate intensive hydration to the surface layers of the skin for an instant smoothing and firming effect.
****Oligopeptide-1 and 2 can promote cell growth and improve cell activity, repair damaged skin. Repair collagen and elastic fibers. It has super good effect to repair damaged skin, like allergic skin, sun-after skin, couperose skin.
Oligopeptide-5 can stimulate the metabolism of epithelial cells, repair the stratum corneum, increase the thickness of the stratum corneum, enhance the vitality of collagen and elastin, and promote wound healing.
These are = Cell Energy Biopeptide from EMGPEPTIDE ®
*****The product contain Vegetable oils.
The product is formulated without Alcohol and Silicone.
---
Share this Product