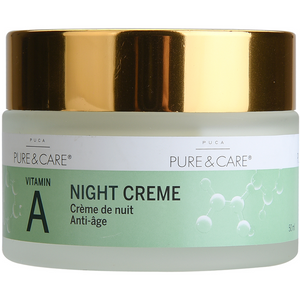 Pure & Care
Night Cream - Vitamin A 50ml
Regular price
119 kr
0 kr
Unit price
per
Tax included.
Shipping
calculated at checkout.
Description
Night Cream - Vitamin A
The Retinol cream contains Vitamin A (retinol) and is a potent anti-ageing booster. The cream restores lost collagen structure at every layer of the skin by stimulating the production of collagen and elastin. Skin texture is enhanced and becomes less transparent. Repairs the harmful effects of the sun and reduces the appearance of visible wrinkles. Retinol cream is also effective for the care of thin skin, such as on the backs of the hands, as well as for dry nails.

KEY INGREDIENTS
Reduces the skin's oil production and contains Propolis for the treatment and prevention of acne – also suitable for young people.
Proline, which is an amino acid, is effective in anti-ageing skin care because of its ability to improve skin elasticity, increase collagen production, and promote skin repair and regeneration.
Caprylic/Capric Triglycerides are full of antioxidants and effective at keeping skin healthy.
Adenosine acts as an anti-ageing ingredient. It can also promote wound healing, which is effective for skin care for acne.
Reduces visible wrinkles and even significant sun damage.
The cream is concentrated and thus economical.
Suitable for both women and men.
How to use
In the evening after cleansing, let your skin dry completely and use the Vitamin A Night Cream alone. Let it sit for 30 minutes and if you feel that your skin needs moisture, apply a nourishing cream at this point. Retinol works best when applied on clean, dry skin alone. When using products containing retinol and retinol derivatives it is extremely important to use a high SPF during the day.
Apply in a very thin layer on cleansed skin, every other night for the first two weeks.
If there is redness, apply the cream only after the redness is gone. When the skin has become accustomed to the cream, apply it cream every night.
Ingredients
Aqua, Butylene Glycol, Hydrogenated Polybutene, Isopropyl Myristate, Glycerin, Cetearyl Alcohol, Butyrospermum Parkii Oil, Caprylic/Capric Triglyceride, Polysorbate 60, Glyceryl Stearate, Sorbitan Palmitate, Sorbitan Stearate, Sodium Acrylate/Sodium Acryloyldimethyl Taurate Copolymer, PEG-20 Methyl Glucose Sesquistearate, Sodium Hyaluronate**, Hexylene Glycol, Phenoxyethanol, Xanthan Gum, Isohexadecane, Palmitic Acid, Propylene Glycol, Stearic Acid, Mentha Arvensis Leaf Extract*, Chrysanthemum Indicum Flower Extract*, Sophora Angustifolia Root Extract*, Aloe Barbadensis Extract, CI 77891, Polysorbate 80, Sorbitol, Hydroxypropyl Cyclodextrin, Pelargonium Graveolens Extract*, Portulaca Oleracea Extract*, PEG-40 Hydrogenated Castor Oil******, Sodium Polyacrylate, Sorbitan Oleate, Caprylyl Glycol, Adenosine, Retinol***, Hydrolyzed Wheat Protein, Ethylhexylglycerin, Potassium Sorbate, Hydrolyzed Soy Protein, Sodium Hydroxide, Sodium Benzoate, Pectin, Ethylhexylglycerin, Silica, Alumina, Proline, Serine, Arginine, Glucose, 1,2-Hexanediol, Polysorbate 20, Acetyl Hexapeptide-8****, Chondrus Crispus Extract, Copper Tripeptide-1*****
*Extract that may contain natural fragrances, therefore, the product is not labeled perfume-free
**PUCAs Sodium hyaluronate is a combination of Macromolecular hyaluronic acid and Small molecule hyaluronic acid.
Small-weight hyaluronan molecules penetrate deeper into the skin's structure,providing maximum below-the-surface hydration and in turn rehydrating skin cells over time.
Macromolecular hyaluronic molecules deliver immediate intensive hydration to the surface layers of the skin for an instant smoothing and firming effect.
***Retinol has the quality of converting into Vitamin A acid when applied to the skin. In theory, the best effect is achieved by using a pure Vitamin A acid, but it does have a number of side effects, such as severe skin irritation. Because of that, there are restrictions in using A-acid, and it must not be used in skincare products.
Several skin care products contains Retinol (which we use) or Retinol esters, which slowly convert to Vitamin A acid when it pentrates the skin.
****Acetyl Hexapeptide-8, usually called as Argireline, an ingredient that aids to moisturize. It also decreases the memory of a wrinkle as well as help the production of collagen
*****Copper Tripeptide-1 is an extraordinarily regenerative compound, that can help to review the damage caused by the sun and other environmental factors. It also improve fine lines
******The product contain Vegetable oils.
The product is formulated without Alcohol and Silicone.
---
Share this Product