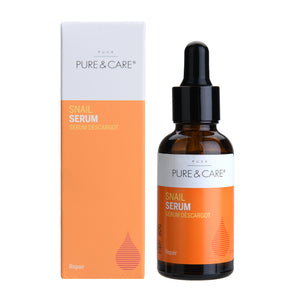 Pure & Care
Snail Serum 30ml
Regular price
115 kr
0 kr
Unit price
per
Tax included.
Shipping
calculated at checkout.
Description
Snail Serum
This serum can immediately enrich the skin with moisture, without leaving it greasy. It can reduce wrinkles and increase skin elasticity, and accelerate skin regeneration and repair damaged skin.

The Snail Serum can be advantageously used with PURE & CARE "Hyaluronic Acid Serum", which will accelerate the process of making the skin soft, smooth and rejuvenated.
The snail serum, which is considered a natural antibiotic, cleanses the skin and reduces acne and pimples caused by bacteria. Snail serum retains moisture in the skin so the skin becomes full and supple.
What it does:
Provides moisture and glow to dry, grey and dull skin
Significantly increases skin elasticity
Healing effect on impurities, scars and wrinkled skin.
Leaves your skin smooth and supple
ACTIVE INGREDIENTS:
Snail secretion filtrate: moisturises, heals and balances the skin. It contains a complex cocktail of glycoprotein enzymes, hyaluronic acid, copper peptides and antimicrobial peptides that have anti-ageing effects on the skin.
Sodium Hyaluronate: boosts the skin's moisture content, prevents inflammation and helps the skin retain moisture. It acts as a protective sponge on the skin retaining moisture keeping the skin plump, hydrated and elastic.
Portulaca Oleraca Extract: a famous plant extract used in Korean traditional medicine that effectively treats infection and irritation of the skin. It is found to be one of the richest green plants containing omega-3 fatty acids, NMFs, carotene, minerals and antioxidants  that all have anti-inflammatory and antioxidant abilities.
Glycerin: a natural moisturiser that is also found in our skin, this is a common and safe ingredient that has been around in cosmetics for many years. It works to keep the lipids between our skin happy and healthy resulting in a protected and strong skin barrier.
Plant and flower extract: Adds moisture to the skin. Contain antioxidants, which help smoothen fine lines and wrinkles, and acts as a barrier preventing premature ageing of the skin. 

How to use
Use as part of your day and or night skincare routine. Apply on cleansed skin and follow with moisturiser.
Ingredients
Aqua, Butylene Glycol, Snail Secretion Filtrate, Corn Gluten Amino Acids, Dipropylene Glycol, Phenoxyethanol, Dipotassium Glycyrrhizate, Sodium Hyaluronate**, Sodium Polyacrylate, Silk Extract, Portulaca Oleracea Extract, Glycerin, Potassium Sorbate, Hexylene Glycol, Propanediol, Beta-Glucan, Paeonia Suffruticosa Root Extract*, Ethylhexylglycerin, Opuntia Ficus-Indica Extract, Eriobotrya Japonica Leaf Extract, Selaginella Tamariscina Extract, Thuja Orientalis Leaf Extract*
*Extract that may contain natural fragrances, therefore, the product is not labeled perfume-free
**The Sodium hyaluronate is a combination of Macromolecular hyaluronic acid and Small molecule hyaluronic acid.
Small-weight hyaluronan molecules penetrate deeper into the skin's structure,providing maximum below-the-surface hydration and in turn rehydrating skin cells over time.
Macromolecular hyaluronic molecules deliver immediate intensive hydration to the surface layers of the skin for an instant smoothing and firming effect.
---
Share this Product