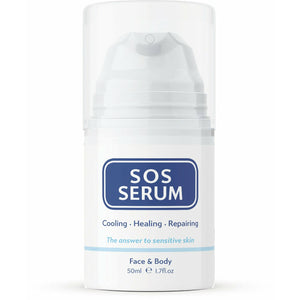 SOS Serum
SOS Serum 50ml
Regular price
279 kr
0 kr
Unit price
per
Tax included.
Shipping
calculated at checkout.
Description
SOS Serum
 A highly moisturising and soothing serum for all kinds of dry, sensitive, uncomfortable and problematic skin types. It reduces itching caused by eczema, psoriasis & dermatitis.
The SOS Serum supports the withdrawal of steroid creams and treats cuts, bites, plant & insect stings and minor burns. Soothing and hydrating wind chapped and sun damaged skin types it instantly and effectively manages allergic flare-ups by providing extra moisture to troubled skin. Dry elbows and knees are also relieved by the light weight and calming formulation of this products.
💙 Suitable for all ages, even babies. Alcohol-free, essential oil-free and free from fragrance.
KEY INGREDIENTS
Glycerin: a natural moisturiser that is also found in our skin, this is a common and safe ingredient that has been around in cosmetics for many years. It works to keep the lipids between our skin happy and healthy resulting in a protected and strong skin barrier.
Wasabia Japonica Root Extract:  Has anti-inflammatory and anti-microbial benefits on the skin which promotes healing. It is also an antioxidant that helps the skin defend itself from sunlight that in the long run reduces pigmentation and scarring.
Hyaluronic Acid: This famous ingredient attracts water to the skin keeping it moisturised and healthy. It is found naturally in our skin, but in skincare it is a great ingredient to help boost hydration and keep the skin moisturised for longer.
How to use
Gently pump and apply regularly to the affected areas. Suitable for all skin types including children. Patch test if sensitive to any of the ingredients. Avoid eye area. For External use only.
Ingredients
Aqua, Glycerine, Wasabia Japonica Root (extract), Obtusifolius (extract), Menthone Glycerin Acetal, Capric / Caprylic Triglyceride and Stearalkonium Hectorite, Lauromacrogols, Tocopheryl Acetate, Hyaluronic Acid, Citric Acid, Ethylhexylglycerin, Undecylenic Acid.
---
Share this Product